Remote surveillance reduction cost Believe in the Industrial Internet of Things Control System
Believe in the Industrial Internet of Things Control SystemThrough the Internet of Things,App, Cloud computing and other technologies, integrated adults, business data, and equipment data are one, realizingPLCThe procedure remote download and program monitoring, as well as remote monitoring, fault alarm, remote diagnosis and parameter adjustment of industrial equipment to achieve the purpose of supporting remote operation, remote diagnosis, reducing personnel labor and equipment maintenance costs, and reducing faults.
I believe that the industrial IoT control system is mainly composed of three parts:
1, Industrial intelligent gateway andPLCConnect, collect industrial equipment data, realize remote monitoring and intelligent control;
2Cloud service platform passes2G/3G/4G/WIFI/R345Eliminate network signals to connect with industrial intelligent gateways to achieve the analysis, storage and transmission of data;
3, Remote operation control device, mainly including mobile phones, computers, industrial control machines, etc.AppWith the programming context software through the network connection cloud service platform, realize the transparency download downloadPLCPrograms, adjustment equipment parameters, control equipment start and stop, monitoring equipment running status.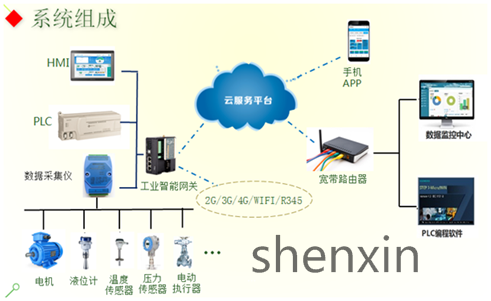 Believe in the main functions of the industrial IoT control system
1, Support location information query and address label setting: You can intuitively see the distribution of the device and the approximate equipment information.
22. Support cloud -confiliated state, you can realize the definition and modification of data through the cloud -confirmed state according to the actual situation of the equipment and remote control.
3, Support the information of the remote machine equipment, real -time status, fault alarm, operation and maintenance control, historical query, etc.
4, Support remote download function, you can achieve the right through cloud transparency transmissionPLCDownload.
5, Support sharing user permission management, for different roles and distribution of different permissions, operate maintenance, equipment management, and fine management of machinery and equipment distributed in various places.
6, Support mobile phoneApp (app (app (Android), pay attention to the operation status of the equipment at any time, adjust the equipment parameters, start and stop control equipment to achieve remote24Number of uninterrupted monitoring, it is guaranteedEnsure that the equipment is safe。