SX-SSQD Waste Heat Power Station Kiln Boiler Dedicated Sub Audio Deduster
Boiler sub-audio auto-cleaner uses 0.4-0.8 MPa compressed air as the power source to self-oscillate the high-strength titanium alloy diaphragm inside the generator to generate sub-audible high-energy sound waves of a certain frequencyThrough the amplification of the sound tube, the sound energy is transmitted from the air medium to the furnace cavity. The fluctuation of the high-energy sound waves directly acts on the dust particles, causing the dust particles to oscillate and loosen with each other along the sound waves, acting as gravity or media in the fluid medium.It is detached from the surface of the attachment to achieve effective cleaning.
Sub audio cleaning machine work mode has a wide range of application, on-site commissioning personnel can change the control mode of the control system according to the actual operation of the scene.
Features
The biggest features: automatic, maintenance-free, no electricity, less gas consumption.
Safe, efficient, stable, continuous, military quality, three-year warranty
Scope of use: There is a place where there is easy accumulation of dust in boilers, dust collectors, flue pipes, ash hoppers, silos, etc. in iron and steel, petrochemical, pharmaceutical, metallurgy, building materials, and power industries.
Product appearance and installation and operation of the actual map:


After the gray device is applied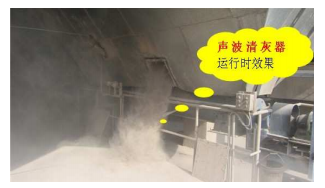 Sub audio turpenter partial performance table
| | | | |
| --- | --- | --- | --- |
| No. | company name | Application product | Application site |
| 1 | China United Cement Corporation Nanyang Branch | Shock Pulse Soot Blower | Kiln boiler |
| 2 | Nanyang Zhonglian Wolong Cement Co., Ltd. | Shock pulse soot blower | ASH superheater |
| 3 | Xuzhou Zhonglian Cement Co., Ltd. | Shock Pulse Soot Blower | Kiln boiler |
| 4 | Huaihai Zhonglian Cement Co., Ltd. Line 1# | Sub Audio Deduster | Kiln boiler |
| 5 | Huaihai Zhonglian Cement Co., Ltd. 2# line | Sub Audio Deduster | Kiln boiler |
| 6 | Huaxin Cement (Yangxin) Co., Ltd. Line 1# | Sub Audio Deduster | Kiln boiler |
| 7 | Huaxin Cement (Yangxin) Co., Ltd. Line 2# | Sub Audio Deduster | Kiln boiler |
| 8 | Huaxin Cement (Wuxue) Co., Ltd. 1# | Sub Audio Deduster | Kiln boiler |
| 9 | Huaxin Cement (Chibi) Co., Ltd. | Sub Audio Deduster | Kiln boiler |
| 10 | Luanchuan Zhonglian Cement Co., Ltd. | Sub Audio Deduster | Kiln boiler |
| 11 | Chongqing Oriental New Hope Cement Co., Ltd. Line 1# | Sub Audio Deduster | Kiln boiler |
| 12 | Chongqing Dongfang New Hope Cement Co., Ltd. 2# line | Sub Audio Deduster | Kiln boiler |
| 13 | Huaxin Cement (Fuling) Co., Ltd. | Sub Audio Deduster | Kiln boiler |
| 14 | Huaxin Cement (Wuxue) Co., Ltd. Line 1# | Sub Audio Deduster | Kiln boiler |
| 15 | Huaxin Cement (Red River) Co., Ltd. Line 1# | Sub Audio Deduster | Kiln boiler |
| 16 | Huaxin Cement (Red River) Co., Ltd. Line 2# | Sub Audio Deduster | Kiln boiler |
| 17 | Huaxin Cement (Quxian) Co., Ltd. Line 1# | Sub Audio Deduster | Kiln boiler |
| 18 | Luzhou Cement Co., Ltd. | Sub Audio Deduster | Kiln boiler |
| 19 | Datong Jidong Cement Co., Ltd. | Sub Audio Deduster | Kiln boiler |
| 20 | Jiaozuo Qianye Cement Co., Ltd. | Sub Audio Deduster | Kiln boiler |
| 21 | Shandong United Wangyu Cement Co., Ltd. | Shock pulse soot blower | ASH superheater |